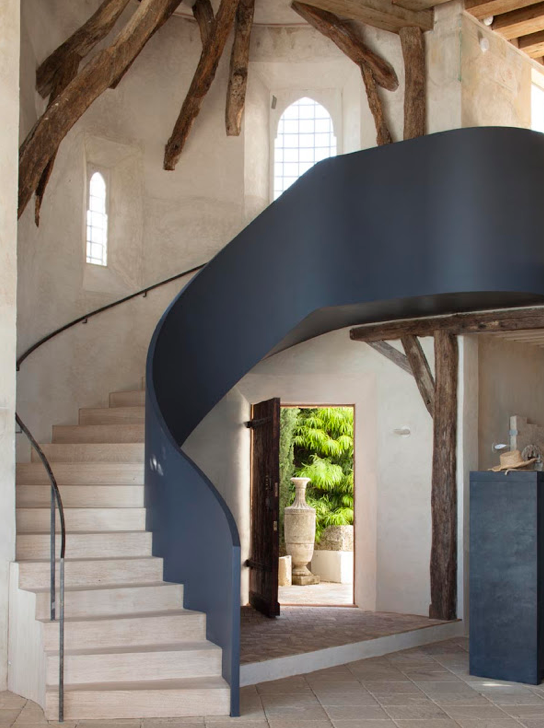 Designer & Antiques dealer, Richard Shapiro has built a Malibu beach front retreat that wreaks of historic beauty and rich texture, take a look inside...
A 19th-century Uzbek suzani covers Shapiro's bed; the 17th-century Italian Savonarola chair stands alongside an antique Burgundian roof corbel.
The library walls feature tadelakt, a traditional Arabic polished plaster. An 18th-century French chair is paired with a Spanish desk of the same period; the Garouste & Bonetti bronze desk lamps are fromStudiolo, and the ottoman and sofa are Shapiro designs.
Steel windows fabricated by Pierre Quinton open to a view of the Pacific Ocean.
The dining area is centered beneath a pair of 18th-century inlaid Cosmatesque panels from Phoenician Stone. Rattan chairs and a bench designed by Shapiro are pulled up to a Tense table byMDF Italia.
A sculptural staircase with a steel balustrade winds up to the master bedroom and bath. At its base is a 19th-century replica of an ancient Greek statue; the nail-studded walnut front door is 17th-century Italian.
The spartan open kitchen occupying one end of the living space is anchored by an island made of basalt. The same volcanic stone is used for the backsplash and counters; the cabinets are black lacquer. A vintage glass waterfall table by Pace is paired with a linen-covered sofa custom fitted to the alcove